About Our Projects
Our projects range from foundational research to highly-applied research.
Foundational research provides a framework for understanding user considerations of COVID-19 technologies.
Highly-applied research assists our partners in improving the adoption of their public health technologies and providing real-world data to guide future developments.
▸ Framework of Adoption Considerations
The COVID-19 pandemic spread across the world in late 2019 and early 2020. As the pandemic spread, technologists joined forces with public health officials to develop apps to support COVID-19 response. Yet, for these technological solutions to benefit public health, users must be willing to adopt these apps. This article details a framework of inputs to a user's decision to adopt a COVID-19 contact-tracing app or other COVID-19 technology along four major axes: technology benefits, solution accuracy, privacy considerations, and mobile-related costs. This framework is empirically validated via both the literature and a demographically-representative survey of 1,000 Americans.
View PDF ↓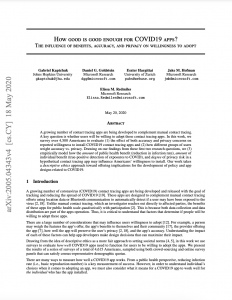 ▸ The Role of App Distributor in Willingness to Adopt
The COVID-19 global pandemic led governments, health agencies, and technology companies to work on solutions to minimize the spread of the disease. One such solution concerns contact-tracing apps whose utility is tied to widespread adoption. Using survey data collected a few weeks into lockdown measures in the United States, we explore Americans' willingness to install a COVID-19 tracking app. Specifically, we evaluate how the distributor of such an app (e.g., government, health-protection agency, technology company) affects people's willingness to adopt the tool. While we find that 67 percent of respondents are willing to install an app from at least one of the eight providers included, the factors that predict one's willingness to adopt differ. Using Nissenbaum's theory of privacy as contextual integrity, we explore differences in responses across distributors and discuss why some distributors may be viewed as less appropriate than others in the context of providing health-related apps during a global pandemic. We conclude the paper by providing policy recommendations for wide-scale data collection that minimizes the likelihood that such tools violate the norms of appropriate information flows.
View article ↓

▸ Post-install Design & Usability Considerations
Since COVID-19 had started, many countries launched an exposure notification app as part of their strategy to slow down the spread of the coronavirus. Motivated to help with wider adoption of the app, many studies explored people's perceptions and concerns of these apps. However, there is a gap in understanding how people are using these apps in practice, after installing them. There are several essential behaviors that are required to ensure the app's effectiveness. For example, people should carry their cell phones with them when leaving the house, have the phone's Bluetooth turned on and, if they are infected, follow the necessary steps for the app to know their COVID-19 test results and inform others regarding exposure. In this study, we explore people's usage of "Coronalert", Belgium's COVID-19 app, and use interviews to understand how people are using the app and the reasons for their app-related behaviors.
▸ How Good is Good Enough? Predicting Adoption
A growing number of contact tracing apps are being developed to complement manual contact tracing. A key question is whether users will be willing to adopt these contact tracing apps. In this work, we survey over 4,500 Americans to evaluate (1) the effect of both accuracy and privacy concerns on reported willingness to install COVID19 contact tracing apps and (2) how different groups of users weight accuracy vs. privacy. Drawing on our findings from these first two research questions, we (3) quantitatively model how the amount of public health benefit (reduction in infection rate), amount of individual benefit (true-positive detection of exposures to COVID), and degree of privacy risk in a hypothetical contact tracing app may influence American's willingness to install. Our work takes a descriptive ethics approach toward offering implications for the development of policy and app designs related to COVID19.
View PDF ↓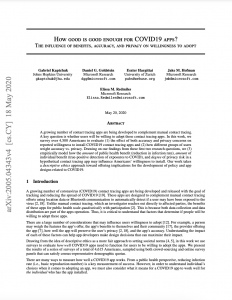 ▸ Impact of Financial & Healthcare Incentives on Adoption
In an attempt to slow the Coronavirus's spread, many countries had developed mobile contact tracing applications. However, the adoption of these technologies upon their release has been lower than hoped. In this work, we explored the impact of using two types of direct incentives, financial and healthcare, on people's willingness to install the app.
▸ Decomposing Installation Decisions
The COVID-19 pandemic inspired the fast-paced development of mobile contact tracing applications and related technologies to help support public health efforts in response to the pandemic. However, the adoption of these technologies upon their release has been lower than hoped. In this work, we conducted a series of conjoint analyses to decompose what proportion of people's adoption decisions are attributable to different app properties (privacy, accuracy, mobile data use, etc.). Understanding people's perceived importance of the various properties will help us understand how to ethically market these apps and encourage adoption.
▸ Advertising Field Studies
In-the-wild advertising studies evaluating the impact of individual vs. societal benefits; privacy reassurance; and data transparency messaging on real-world adoption rates.
▸ Survey Validation Studies
Ongoing comparative work to evaluate the validity of survey studies for predicting adoption intent.